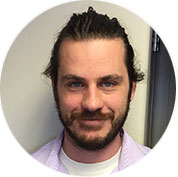 Senior Researcher
Originally from Appin, Ontario, Alex attended Lakehead University where he completed his Honours Bachelor Degree (H.B.A) in Anthropology. He is currently completing his Masters of Education (M.Ed.) in Critical Food System Studies and Indigenous Sovereignty, also through Lakehead University.
Academic based research projects during his undergrad include a participant action research project examining social perceptions regarding privilege, race and socio-economic standing in a community based activist collective. At this time Alex was also engaged in community development projects related to climate change, sustainability, and food security: the founding of the Lakehead Sustainability Initiative, the City of Thunder Bay's Environmental Action Plan (Earthwise), and the True North Community Cooperative.
Following the completion of his H.B.A. in Anthropology (minor in Environmental Studies), Alex worked for the Federation of Ontario Naturalists (Ontario Nature), as the coordinator for the Forest and Fresh Water Foods program. During this time, he was responsible for the design and implementation of a comprehensive research project regarding the value of Forest and Freshwater Foods (Beyond the Fields: The Value of Forest and Fresh Water Foods for Northern Ontario, 2014). Alex also oversaw successful policy amendments to the Local Food Act of Ontario, and the Thunder Bay Food Strategy.
Through Alex's Master's of Education, he is engaged in a major research project addressing theoretical and practical challenges to solidarity with Indigenous Food Sovereignty for Settler Canadians working in the Canadian Food Movement. During this time, Alex has also worked in various capacities, including: Sustainability Tracking and Assessment Rating System (STARS) Technician (LU), Direct Developmental Support Worker (Community Living, Grimsby-Lincoln), and as an independent researcher on Food System related projects (SPCS).
In February of 2017, Alex was hired at the SPCS as a Researcher.
Recent Projects: With SPCS, Alex is involved in a number of projects and social initiatives. For the majority, Alex contributes to projects and grant application research and writing. Currently, his project work includes the Healthy Kids Community Challenge (HKCC) funded by the Ministry of Health and Long-Term Care, seeking to achieve improved well-being through promotion of healthy eating, psychical activity and health behaviours in children 12 and under. Related to one HKCC, Alex is conducting a Community Food Assessment in order to establish baseline data and provide recommendations for food system development.  He is also working on an emerging Youth Collective Impact project which is funded by the Ontario Trillium Foundation. Alex is contributing to work that will research root causes of youth engaged in high-risk behaviour and implement interventions with the assistance and participation of organizations and stakeholders from a variety of sectors.